I have researched and implemented various online business strategies, and among them, affiliate marketing has consistently stood out for me as the most reliable. One key advantage of affiliate marketing is that it doesn't require any initial investment. First, you only need to build an audience on your website or third-party platforms like social media sites and forums.
If you are in Malaysia, the Shopee Affiliate program is one of the most reliable affiliate programs that I recommend to anyone getting started with affiliate marketing. Shopee is a well-known e-commerce platform in several Asian countries, including Malaysia. If you are unfamiliar with the Shopee affiliate program, this article is for you. 
By the end of this article, you will have all the information necessary to get started with this program, including its advantages, disadvantages, and much more. Without wasting any more of your time, let's get started!
What is the Shopee Affiliate Program?
The Shopee Affiliate Program is an initiative created by Shopee, an e-commerce platform. This program empowers influencers and content creators to earn commissions by promoting products on their platforms. With this program, you don't need any initial capital investment. Instead, you can join the program and share product links, receiving commissions for your efforts. 
As an affiliate, your primary task is to join the Shopee Affiliate Program and then share specific product links with your audience. These links contain a unique identifier that tracks the activity generated through your referrals. When users, typically your followers, click on the shared product links and make purchases, you, as the affiliate, receive a certain percentage of the sales as a commission. 
Reasons to Join the Shopee Affiliate Program
If you're still thinking twice about whether or not to participate in the Shopee Affiliate Program, here are some compelling reasons to consider:
No Initial Investment:

One of the most attractive aspects of this program is that it doesn't require any upfront financial commitment. All you need is an existing audience on any online platform, such as social media or a blog.

Reliable Side Income Source:

The program offers the opportunity to generate a reliable source of side income. Many affiliates on the platform have the potential to earn substantial amounts, with some making over ₱100,000 to ₱200,000 per month.

Unlimited Commission Payout:

Shopee doesn't impose limits on the monthly commission payouts, so there's no ceiling on the amount you can earn.

Generous Commission Rates:

Depending on whether you're a new or existing user, you can earn different commission rates. New users can earn up to 15% in commission, while existing users can earn up to 3%.

Transparent Payments:

Payments are made transparently and in accordance with purchase transactions and referral links, ensuring a clear and fair process.

Diverse Product Catalog:

Shopee offers a broad range of products, allowing you to select and promote products that align with your audience's interests.
Brief overview of Shopee as an e-commerce platform
About the Company
Shopee was launched in 2015 and is now available in multiple Southeast Asian countries and regions, including Thailand, Malaysia, the Philippines, Vietnam, Indonesia, and Taiwan. Beyond Southeast Asia, Shopee has also extended its operations to South American countries, such as Brazil, Chile, and Colombia, reflecting its global aspirations.

While Shopee originally started as a Business-to-Consumer (B2C) marketplace, it now also supports Business-to-Business (B2B) transactions and dropshipping.

Shopee offers an escrow service, a feature appreciated by new affiliates. This service ensures that suppliers are paid when the delivery of an order is confirmed.
How Shopee's commission structure works
As we stated earlier, Shopee affiliates earn a commission on every purchase made through their referral link. Below is a breakdown of the commission (percentage of the purchase price) you should expect to earn depending on the category of product you choose to get into.  
Categories

Commission per item

New Buyer

Existing Buyer

Electronics

 

 

Cameras & Drones, Computers

& Accessories, Gaming & Consoles,

Mobile & Accessories

11.2%

1.2%

Home Appliances

11.2%

0.7%

Fashion

 

 

Fashion Accessories, Men Clothes, Men Shoes, Men's Bags & Wallets, Watches, Women Clothes, Women

Shoes, Women's Bags

15.0%

1.2%

Travel & Luggage

15.0%

2.3%

Muslim Fashion

15.0%

0.9%

FMCG

 

 

Baby & Toys, Groceries & Pets,

Health & Beauty

15.0%

0.7%

Lifestyle

 

 

Automotive, Sports & Outdoor

15.0%

1.2%

Games, Books & Hobbies

15.0%

2.0%

Home & Living

15.0%

0.7%

Others

 

 

Others

15.0%

1.0%

Tickets & Vouchers

6.2%

1.0%
For more details regarding the commissions, check out the Shopee affiliate program official page.
Steps to Join the Shopee Affiliate Program
To join the affiliate program, follow these three simple steps: 
Step 1: Get started creating your Affiliate's Account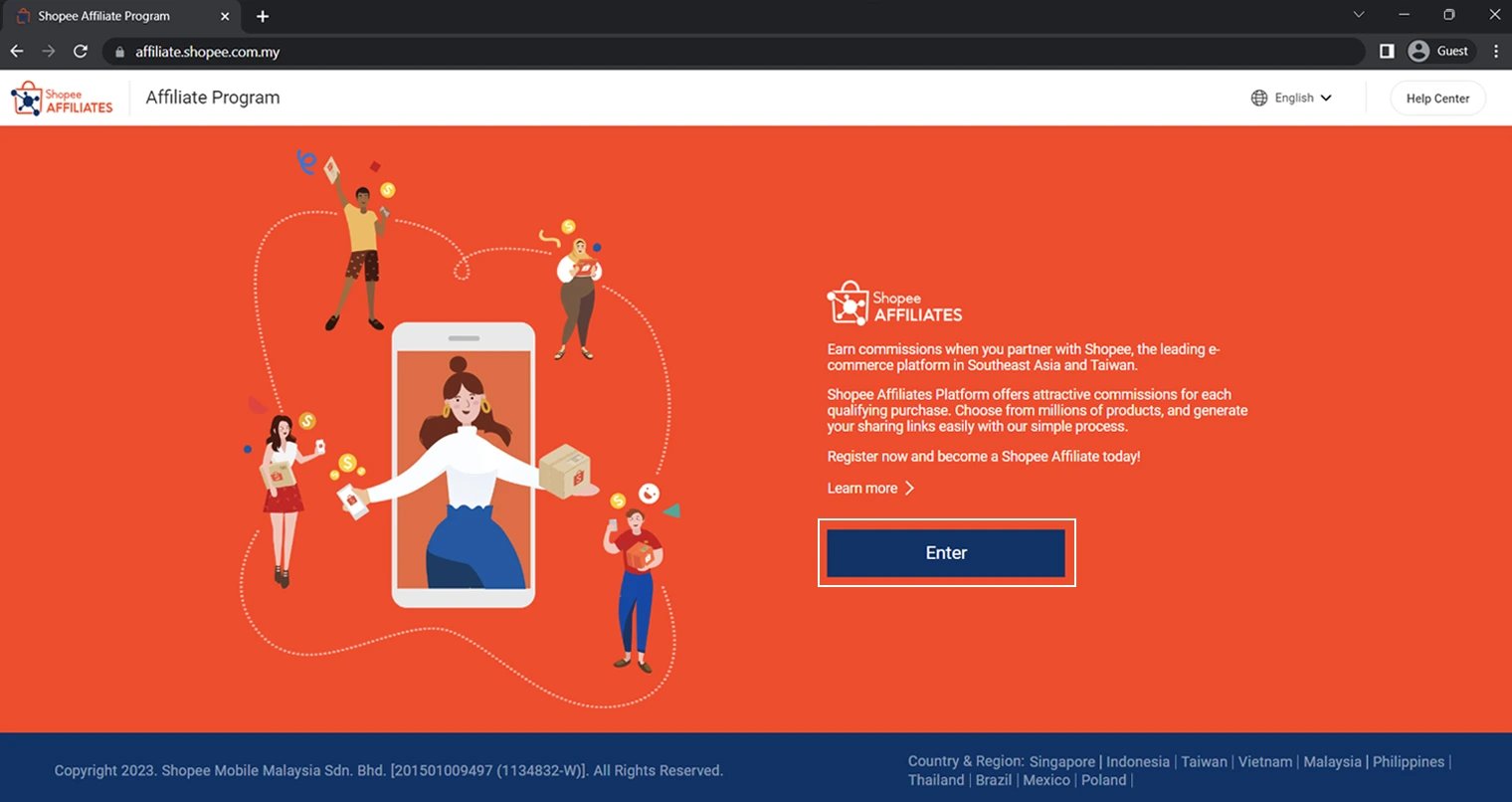 To embark on your journey with the Shopee Affiliate Program, the first step is to create a Shopee account. Visit the Shopee affiliates sign-up page and click the "Enter" button to get started. You will be redirected to a new page with the option to sign up with your phone number or use your Google or Facebook account. I would recommend signing in with your Google account.
Step 2: Fill in the required information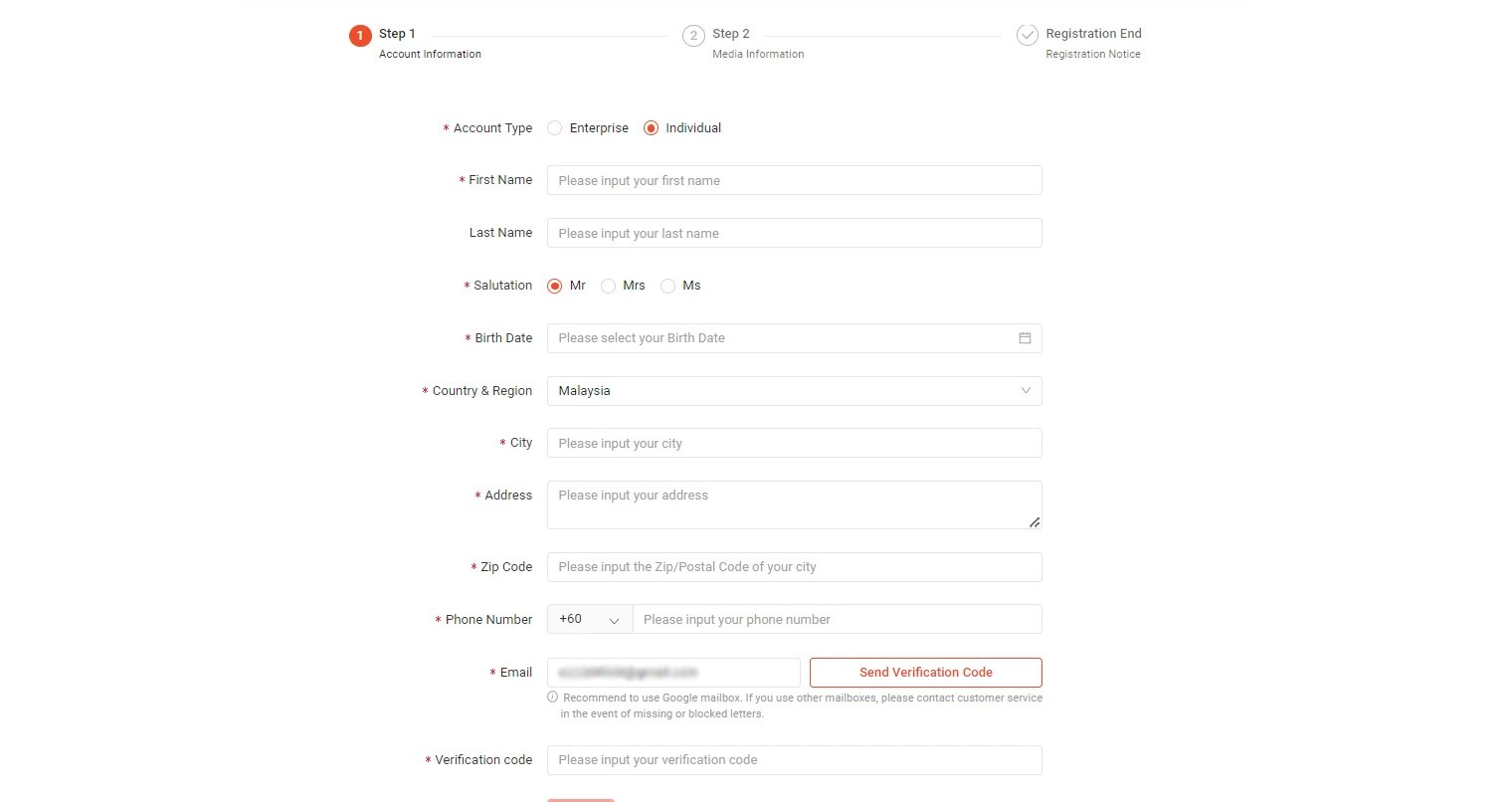 The required information includes your phone number and email.  After inputting your email, you will be required to send a verification code as a way to confirm that the email belongs to you. Input the code sent to your email and the referral (if you have one) and then click the Submit button.
Step 3: Choose Products to Promote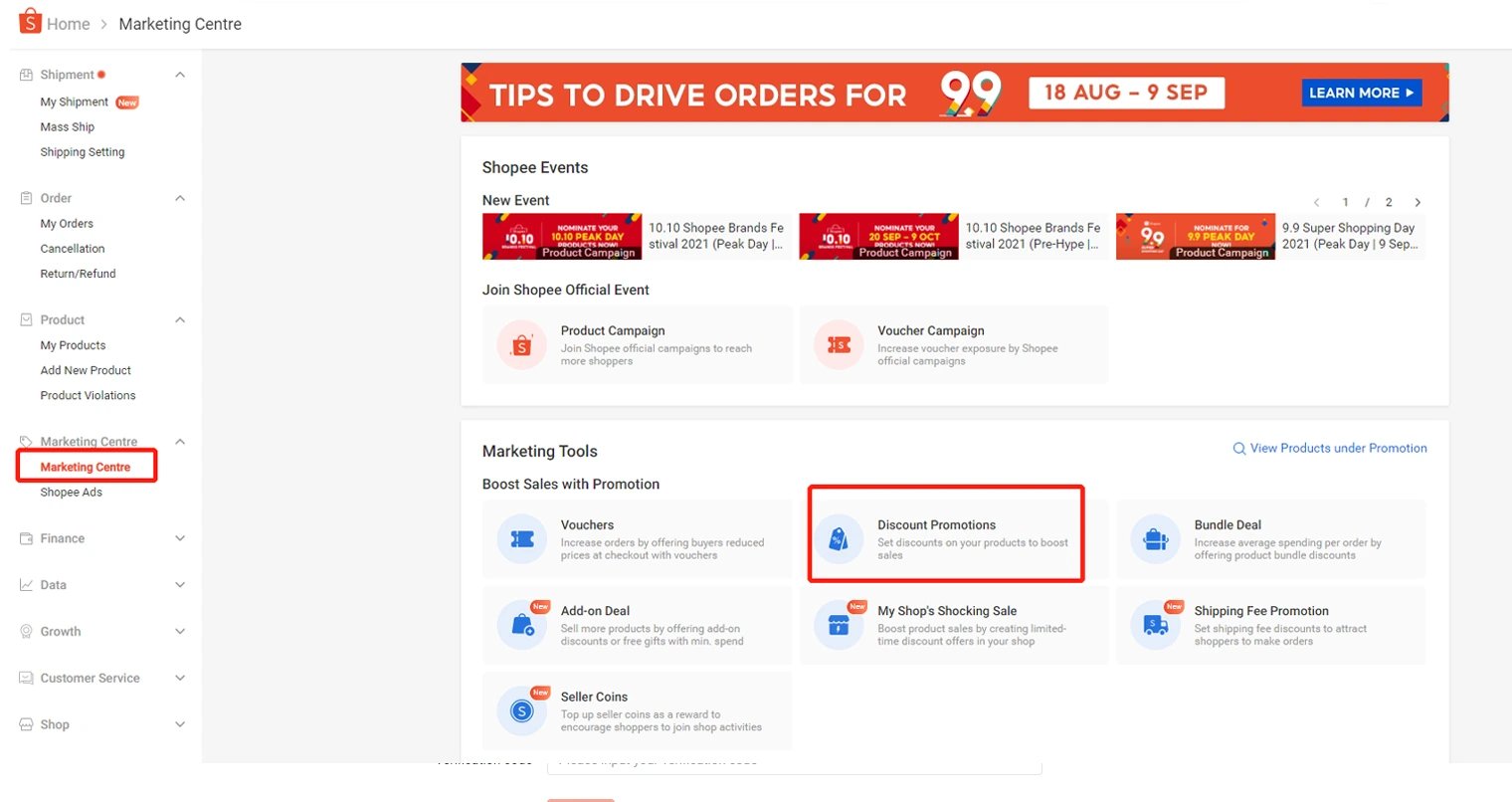 Once your application to the Shopee Affiliate Program is approved, you'll be granted access to a unique affiliate link within the Shopee Affiliate Program platform. You have the flexibility to choose best-selling items from Star Sellers or Shopee Mall. Share the links of these products in your content and encourage your audience to click on them and buy the products.
It is important to ensure that your content resonates with your target audience on your chosen social media platforms. This will encourage them to click on these affiliate links and, ideally, make purchases. The more people who make purchases through the product links you share, the higher your commissions will be. Shopee calculates your commission based on the selling price of the products purchased through your shared links.
Pros and Cons of the Shopee Affiliate Program
Pros
No Initial Investment:

One of the most significant advantages of the Shopee Affiliate Program is that it doesn't require any upfront financial investment.

Flexible Earnings:

The program provides an opportunity for affiliates to earn commissions based on the sales generated through their affiliate links.

Broad Product Catalog:

Shopee offers a wide range of products, giving affiliates the freedom to choose what to promote based on their audience's interests and preferences.

Transparent Payment Process:

The program ensures that payments are made transparently and in accordance with purchase transactions and referral links, providing affiliates with a clear understanding of their earnings.

No Monthly Commission Limits:

There are no restrictions on the amount of commission affiliates can earn each month, providing an opportunity for substantial income.
Cons of the Shopee Affiliate Program
 

Competition:

Given the program's appeal, there may be significant competition among affiliates, making it more challenging to stand out and earn commissions.

Varied Commission Rates:

Commission rates may differ by region, potentially affecting the earnings of affiliates in different locations.

Earnings Depend on Sales:

Affiliates' earnings are directly tied to the success of the products they promote. If products don't sell well, affiliate income may be limited.

 

Content Creation Effort:

To be successful, affiliates must put in the effort to create engaging and relevant promotional content. This can be time-consuming and may require a degree of creativity and marketing skills.

 

Patience Required:

Affiliate marketing often takes time to yield significant results. Affiliates need to be patient and persistent as they build their audience and see the fruits of their efforts.
At this point, you have all the insights and the tools you need to dive into the Shopee affiliate program. As you may have noticed, getting started with this program is straightforward, and Shopee doesn't impose strict requirements that would discourage potential participants. 
However, you will need to put in the effort in building an audience and crafting creative, relevant content that entices your target audience to click on your affiliate links. It's important to acknowledge that earning through affiliate marketing is a gradual process, so you'll need to exercise patience as you put in the effort.
If you're not into promoting physical products on platforms like Shopee, I recommend considering the BK8 Online Casino affiliate program, especially if you have an audience interested in online gaming and gambling. BK8's affiliate program offers generous commissions of up to 45%, enabling you to earn substantial commissions compared to most other affiliate programs. Joining this program is also relatively straightforward. To get started, simply follow the link to the BK8 affiliate program page where you can sign up by providing some personal information and verifying your identity.
There a lot of affiliate marketing program available in the market. The important thing is you should always choose the best affiliate marketing program such as BK8 Affiliate that offer highest commissions to members and better features!
Add Your Heading Text Here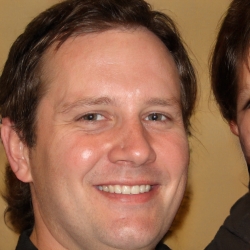 Latest posts by Travis Bishop
(see all)