Best Online Earning Profit Platform
Before starting to run an affiliate marketing, every person has to look for a product or a brand to drive customers to. However, driving traffic into many different sites and for many different companies can be difficult and hard to manage. 
Fortunately, there are now other options, such as E-commerce platforms, which provide a large range of products from various brands. 
Furthermore, these E-commerce platforms provide various advantages to affiliate marketers, such as, E-commerce platforms have well established brand names and loyal customers, hence, increasing the chance that potential customers engagements and purchase intention.
Furthermore, these platforms have its brand image to retain, therefore, the partners will be ease at worrying about supplier failure issues. One of the most important advantage, data and information. 
These platforms often provide affiliate marketers with a lot of useful and relevant data for further marketing efforts. Learning how to utilize this data will be the key into how successful you'll become as a digital marketer. With all of that said, what E-commerce platform will we cover here? None other than the biggest E-commerce platform in South-East Asia, Lazada.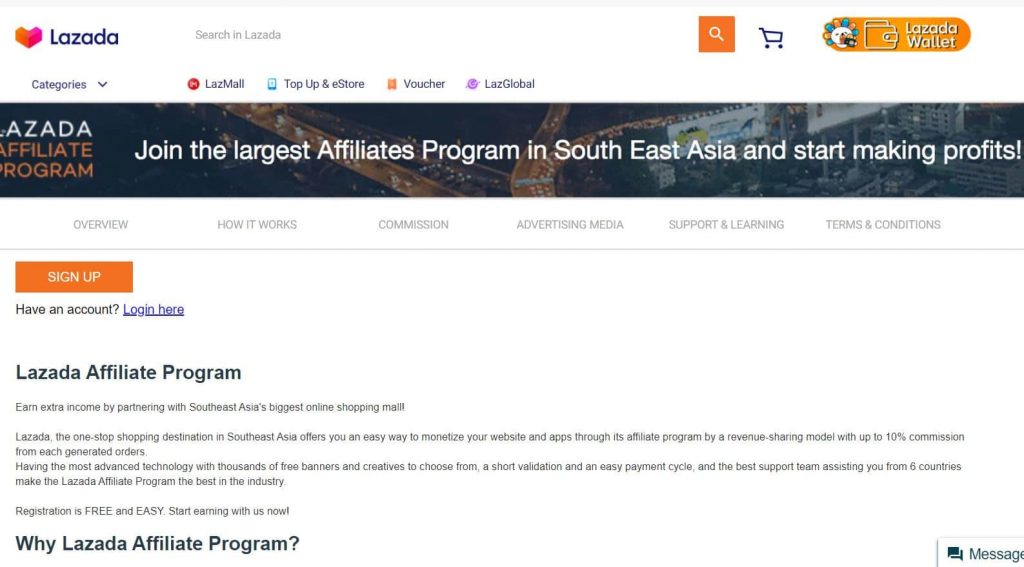 What is Lazada Affiliate?
Lazada is proven by statistics to be the largest Ecommerce platform in the whole Southeast Asia. With over 8 years in the industry, it has become one of the most influential and popular Ecommerce stores on this side of the world. Lazada aims to have over 300 million customers by 2030, which is no surprise that in 2016, Lazada became the regional flagship of the Giant Corporation, Alibaba Group. Now being backed by the best infrastructure from Alibaba.
How Does Lazada Affiliate Work?
Simply, drive traffic to Lazada and if they purchase anything with your link, earn up to 10%. Here's how it works:
You will receive a Lazada affiliate link personalize to you.
Post it on any digital marketing platforms, either on your website or ads or even on social media.
When someone clicks on the link, they will be redirected to the Lazada platform.
During the session, they can add any products into the cart.
If they purchase those products within 30 days of clicking the link, you'll earn commission.
The payment of commissions will take between 15-30 days to be confirmed, after confirmation the funds would be transferred.
Where and How do I Sign Up?
To sign up for
Lazada Affiliate
, head to
https://www.lazada.com.my/lazada-affiliate-program/
. Once you reached the page, click on the orange sign up button and either sign up for a
Lazada
account or login to an existing account. After that, you will need to verify your email, fill out the affiliate program form, provide credentials such as ID and your bank information so they can transfer the commissions to your preferred banking method. Once completed the mentioned verification, a personalized affiliate link would send to you. Therefore, you are allowed to start driving traffic to
Lazada
.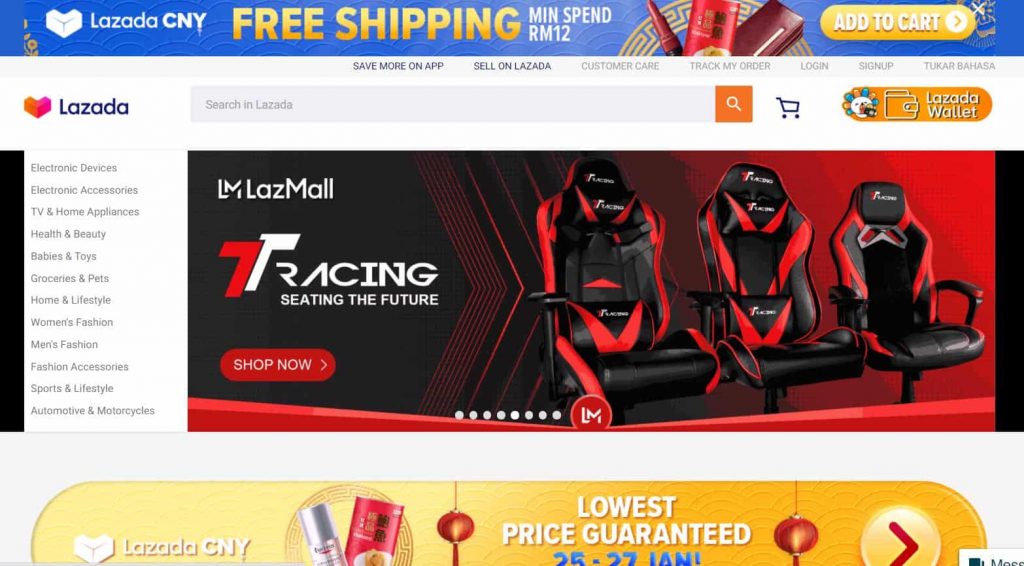 What are the Strengths of Lazada Affiliate?
Lazada is still considered relatively new compared to some of the international E-commerce giants, such as Amazon and eBay. 
This information is relatively important, since it shows that there are lesser affiliate marketers in Lazada compared to other larger E-commerce platforms, in other words, Lazada is still an untapped gold mine for affiliate marketers to explore, and those who understand the art of affiliate marketing will be able to reap the benefits of this.
Furthermore, Lazada affiliate marketing is localized to Southeast-Asia. It means that most of their customers are from this particular region. This allows you as an affiliate marketer to have an advantage at targeting local customers compared to international or western affiliate marketers.
What are the Weaknesses of Lazada Affiliate?
Like every other Ecommerce platforms, Lazada also has its own weaknesses.
Lazada sells a wide range of products, this makes it harder for marketers to create specialized ads or websites to target smaller and more lucrative markets. 
Not being able to specialize and focus your ads/website greatly reduce how you connect all products to the potential customers. This affects the effectiveness of your website or ads to funnel consumers to your link, thus reducing how much you can earn through affiliate. This also happened to Amazon Affiliate.
Also, according to research, Lazada does not have the best commission for its affiliate partners, this means as an affiliate marketer, you will have less returns for your work compared to other companies' affiliate program.
Spending high amount of time and receiving a barely cost covered results are is not what an affiliate marketer wants. You may want to try other affiliate marketing program that offered higher commission such as BK8 Affiliate.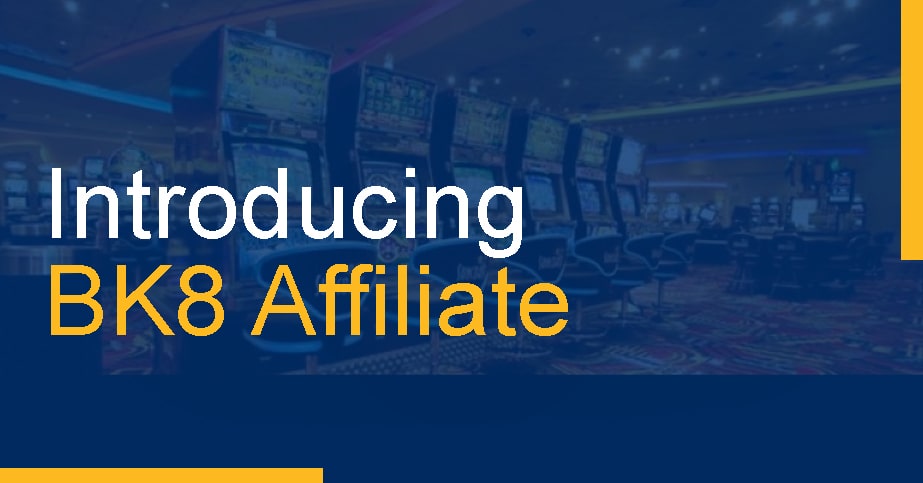 Introducing BK8 Affiliate
What is BK8 Affiliate? BK8 Affiliate is affiliate marketing that specializes in the gaming industry. A very untouched but lucrative market. BK8 Affiliate aims to sell gaming services and products ranging from sportsbooks, live casinos, slots and many more. BK8 Affiliate program has over 500 partners around the world. Worry not, there are some of the best affiliate managers out there are always welcome new members and help them earn more with lots of strategies.
BK8 Affiliate provides, easily, one of the highest commission rates out there for affiliate marketer with an astounding 45%. For context sake, if you sold $1000 worth of products and services, you could earn a whopping $450. This level of return allows affiliate marketers to enjoy a lot of return for their time and effort, furthermore, it allows the affiliate marketers to invest into their websites and adverts more, to exponentially increase the returns.
Also, BK8 Affiliate targets the very specialized and niche marketing of gaming. This allows affiliate marketers to easily craft content or adverts that are engaging specifically with their customers and increase the flow of traffic to their affiliate links.
BK8 Affiliate is proven to be fast, easy and free! There are no fees for signing on as a BK8 Affiliate. After signing up, within days you will be approved to become a BK8 Affiliate marketer. The whole joining process is easy, and with a fast and effective support team to guide you the whole way. BK8 grooms you to be an affiliate marketer fast, free and easy!
BK8 Affiliate also has an exclusive affiliate manager coaching program. Even if you are new to affiliate marketing, BK8 has social media marketing support to help teach you about what you need to do to get started. Furthermore, BK8 has a large database of promotional material that you can learn from and use them to help you to be a professional affiliate marketer.
BK8 Affiliate is undoubtedly the perfect source for secondary income. With one of the highest possible returns in affiliate marketing and a specialized market, marketers can avoid the need to put much effort to secure a stable secondary source of income. Furthermore, there is an infinite room to expand and grow your affiliate, and in return your secondary source of income.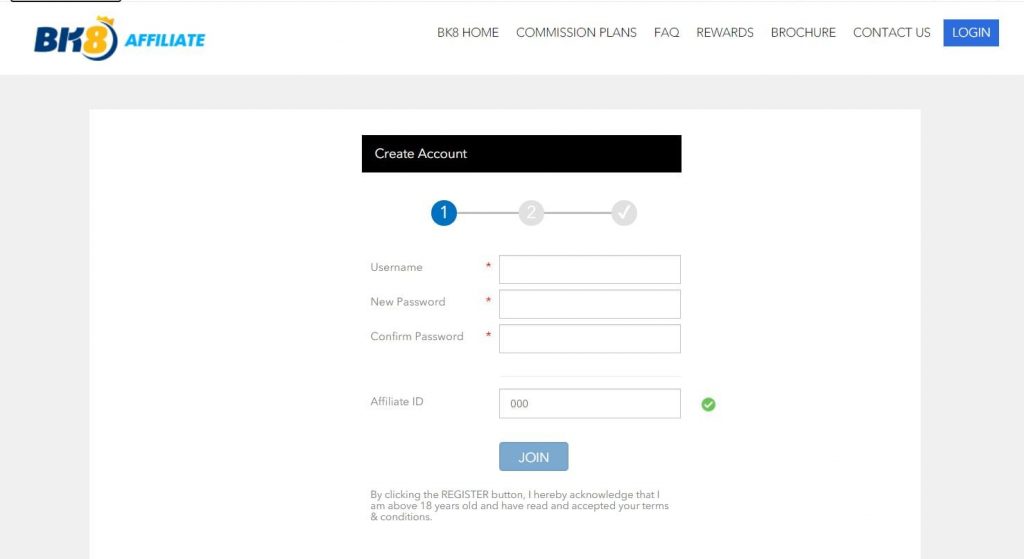 How does BK8 Affiliate work?
Firstly, to signup for BK8 Affiliate Program, you need to head over to the website at https://aff.bk8win1.com/aff/register?affId=9129 and begin with registration. Once registered, please wait for a moment for the registration to be approved. This won't take longer than a few days. 
After that, you will receive an affiliate link by the BK8 Affiliate team. Once received, you can start distributing you affiliate link on any platforms. There are many ways to get people to click the link, either with a website, or advertisements or even just through social media. 
Once the potential customers click the link, they will be brought to the BK8 site. If they make a purchase on the site, you will receive a commission of up to 45%. Payment would be done on monthly basis to your preferred banking account.