If you've been searching for a reliable way to generate some side income or even a full-time income, affiliate marketing is one of the most effective ways to achieve that dream. Having been a part of several affiliate marketing brands in Asia and globally, Lazada's program is one of the few I recommend, thanks to its generous commissions.
For those who are hearing about this program for the first time and would love to know more about it, you've come to the right place because that is what this article is about. By the end of this article, you will have a clear idea about this program, including how to get started, the commissions they offer, tips for maximising earnings, and much more. Let's start with the basics.
What is the Lazada Affiliate Program?
The Lazada Affiliate Program is an opportunity provided by Lazada, a prominent eCommerce platform. This program enables content creators and influencers to earn money through their online content. Those eligible to join the program can create a unique affiliate link, which they can then share across their social media platforms or embed in their website content. When individuals click and make purchases using these links, the affiliate marketer earns a commission based on the total order value of the products purchased. 
Why join the Lazada Affiliate Program?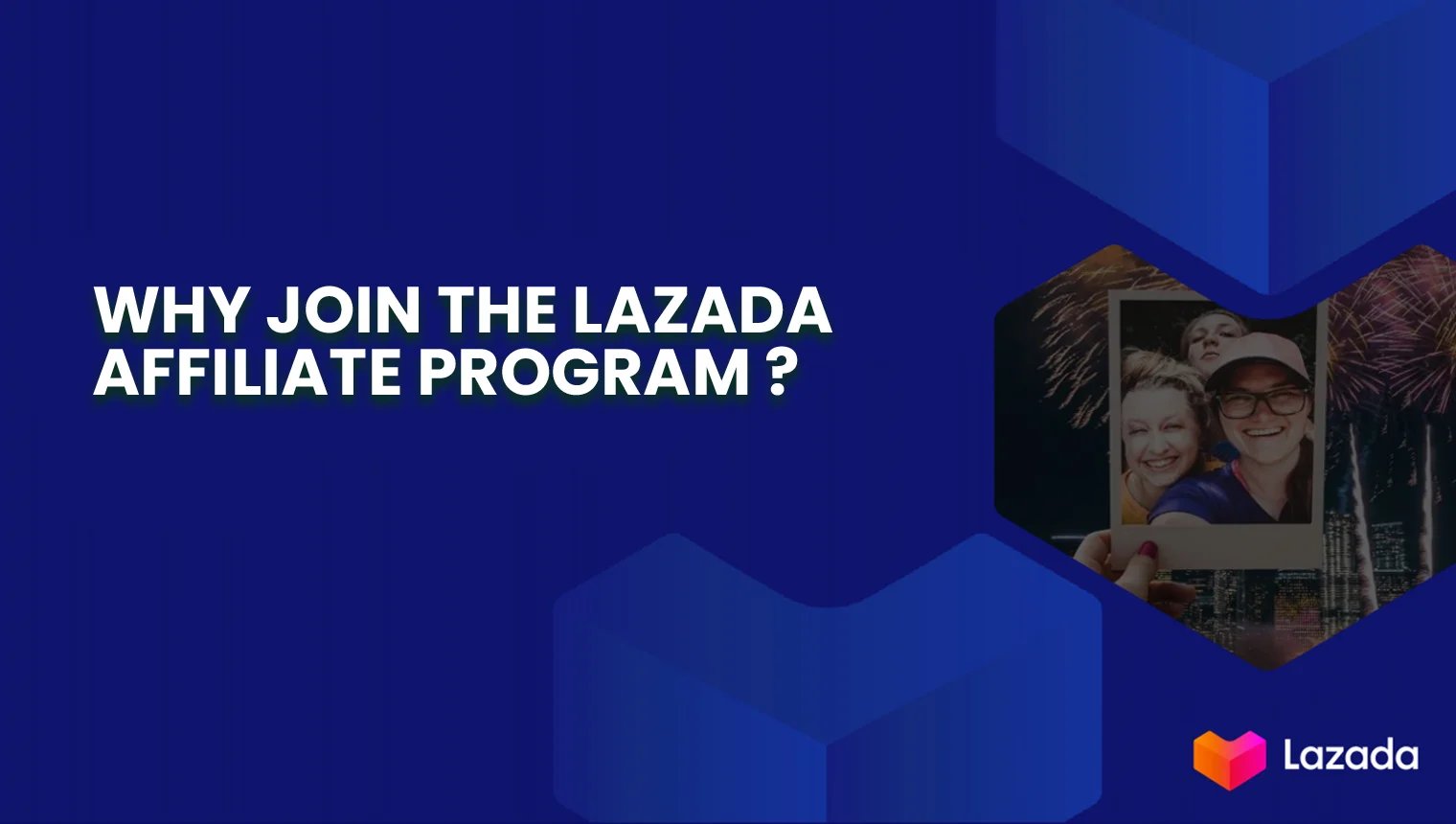 Earn Side Income:

With Lazada, you can generate side income by joining the Lazada Affiliate Program. Depending on the popularity of your online brand and the effort you invest, most Lazada affiliates can generate monthly earnings ranging from RM2,000 to RM10,000.

Lazada's Trustworthiness:

In an era where online scams are common, being associated with a reputable and trustworthy brand like Lazada provides assurance to affiliates and your target referrals (consumers).

Diverse Product Offerings:

Lazada offers a wide range of product categories, making the program suitable for content creators in various niches, including tech gadgets, fashion, health and beauty, and more.

Reliable Support:

A reliable support team supports The Lazada Affiliate Program. Support is crucial as you may often need assistance from people inside the company.
Brief Overview of Lazada as an E-commerce Platform
Lazada is one of the largest eCommerce platforms in Southeast Asia, with an estimated valuation of over $3 billion. This platform operates in multiple countries across the Southeast Asian region, including Malaysia, Singapore, Indonesia, the Philippines, Vietnam, and Thailand. This wide geographic reach provides opportunities for cross-border selling, allowing sellers to access a large pool of potential referrals.
Lazada is a major player in the eCommerce industry and is considered among the largest eCommerce platforms in Southeast Asia.

It offers various products in several categories, including electronics, fashion, home and living, and many more.

Lazada has an affiliate program that allows individuals to earn commissions on sales generated through their unique affiliate links.

Lazada's website attracts an impressive traffic volume, with over 300,000 monthly visitors.
How Lazada's commission structure works
Commission Rates Based on Product Category:

The commission rates can vary and may range to 14.0%, depending on the specific product category.

Uniform Commission for Products in the Same Category:

Regardless of the price of the individual products within a category, all items in the same category earn the same commission rate or percentage.

No Minimum Sales Requirement:

One notable advantage of Lazada's affiliate program is that there is no minimum sales requirement to qualify for commissions.

Minimum Payout Threshold:

To receive your earned commissions, you must reach a minimum payout threshold of RM 90.

Sales Validation Time Frame:

Transactions made through your affiliate links undergo a sales validation process that typically takes 15 to 30 days.
Table showing commission for different product categories
| | |
| --- | --- |
| Category | Commission |
| Digital Goods  | 8.50%         |
| Electronics  | 2.50%         |
| Fashion      | 14.00%        |
| Lifestyle & Home | 7.00%         |
| Supermarket   | 7.00%         |
| Health & Beauty | 10.00%    |
For more details about the affiliate commissions and other terms and conditions, check out the Lazada Affiliate Program page.
Steps to Join the Lazada Affiliate Program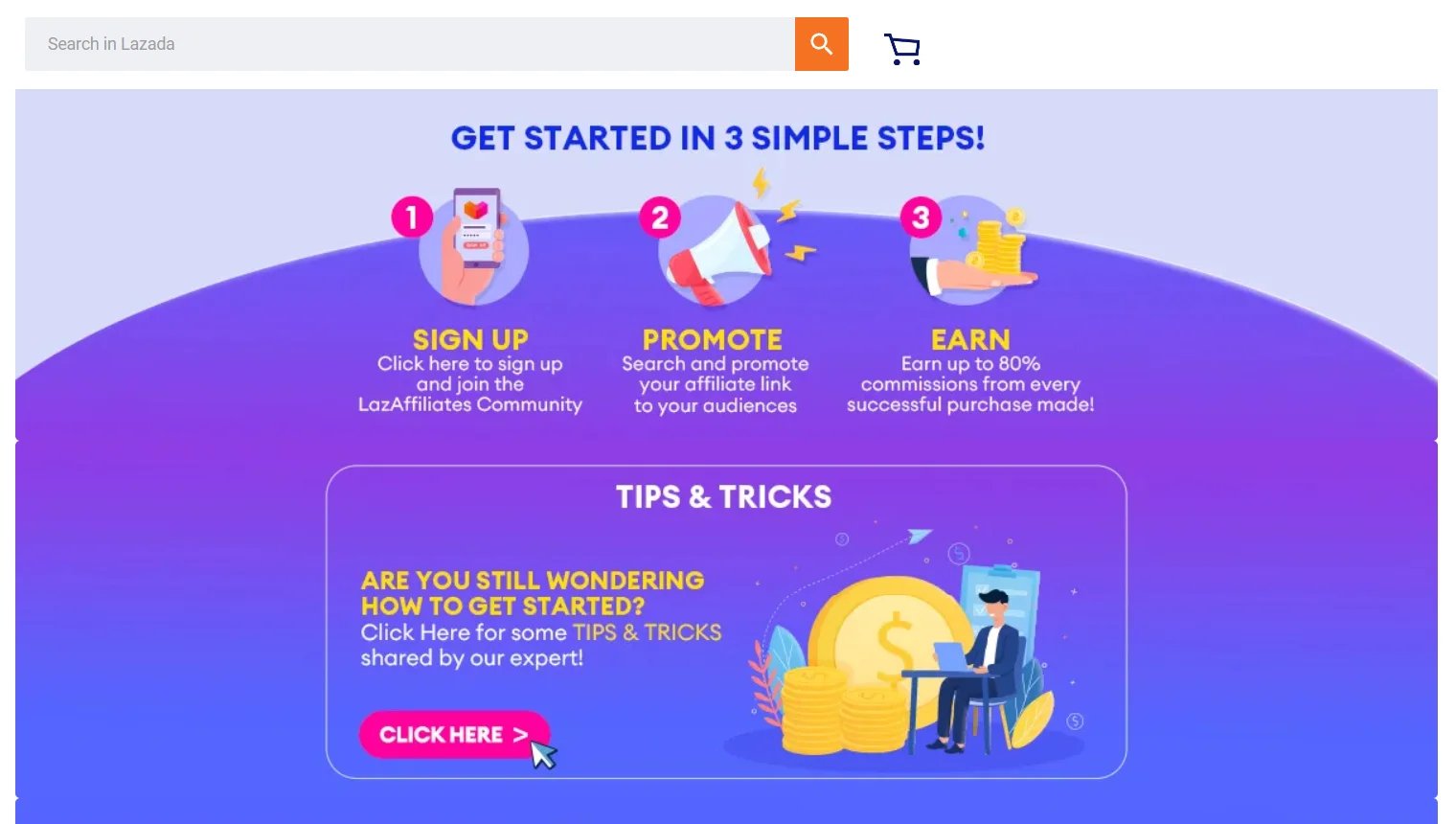 Visit the Lazada Affiliate Program Website:

Start by going to Lazada's affiliate program page. This is where you'll find information about the program and initiate the sign-up process.

Register:

Sign up for an affiliate account by providing the necessary information. This typically includes your personal details and contact information.

Approval:

Once you've submitted your application, Lazada's team will review it. They will assess your eligibility to ensure your content meets their program requirements.

Get Your Unique Affiliate Links:

Upon approval, you will gain access to unique affiliate links and marketing materials. You will use these links in your content to promote Lazada's products or services on your online platforms.
Setting Up Your Affiliate Account
These are the four key steps you will follow to create an affiliate account with Lazada
Step 1: Visit the Affiliate Program page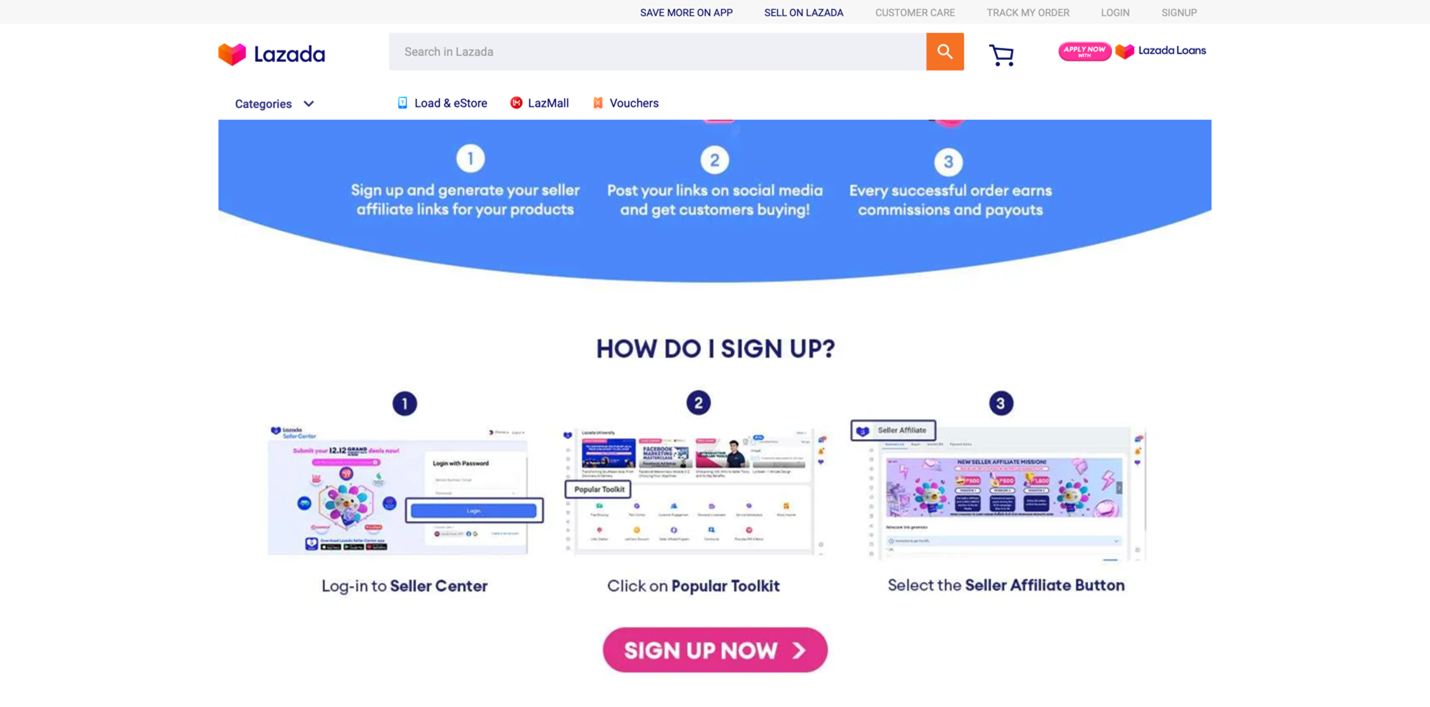 Go to the affiliate page and click "Sign up now." It will redirect you to a new page where you must input your user information.
Step 2: Input the credentials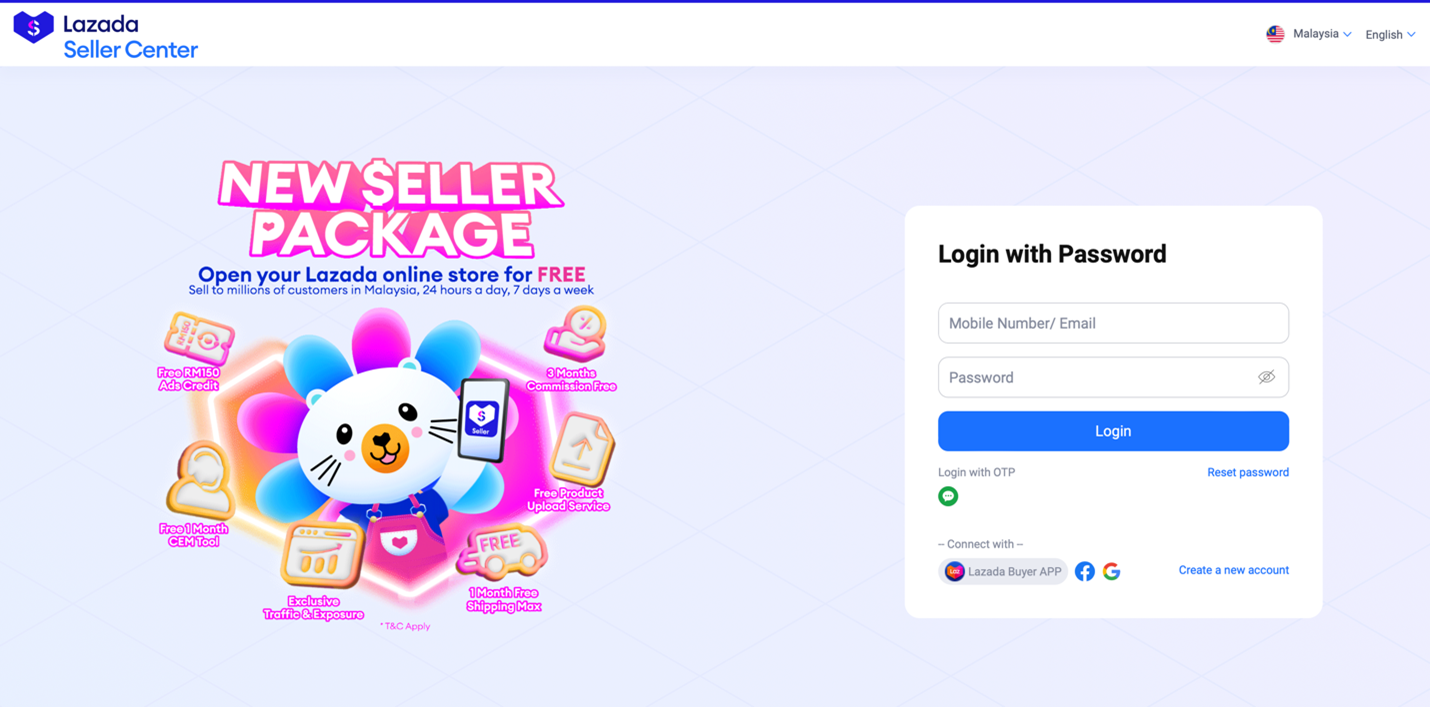 You can sign up using your credentials, or you can choose to sign up using your Google or Facebook account for convenience.
Step 3: Input your phone number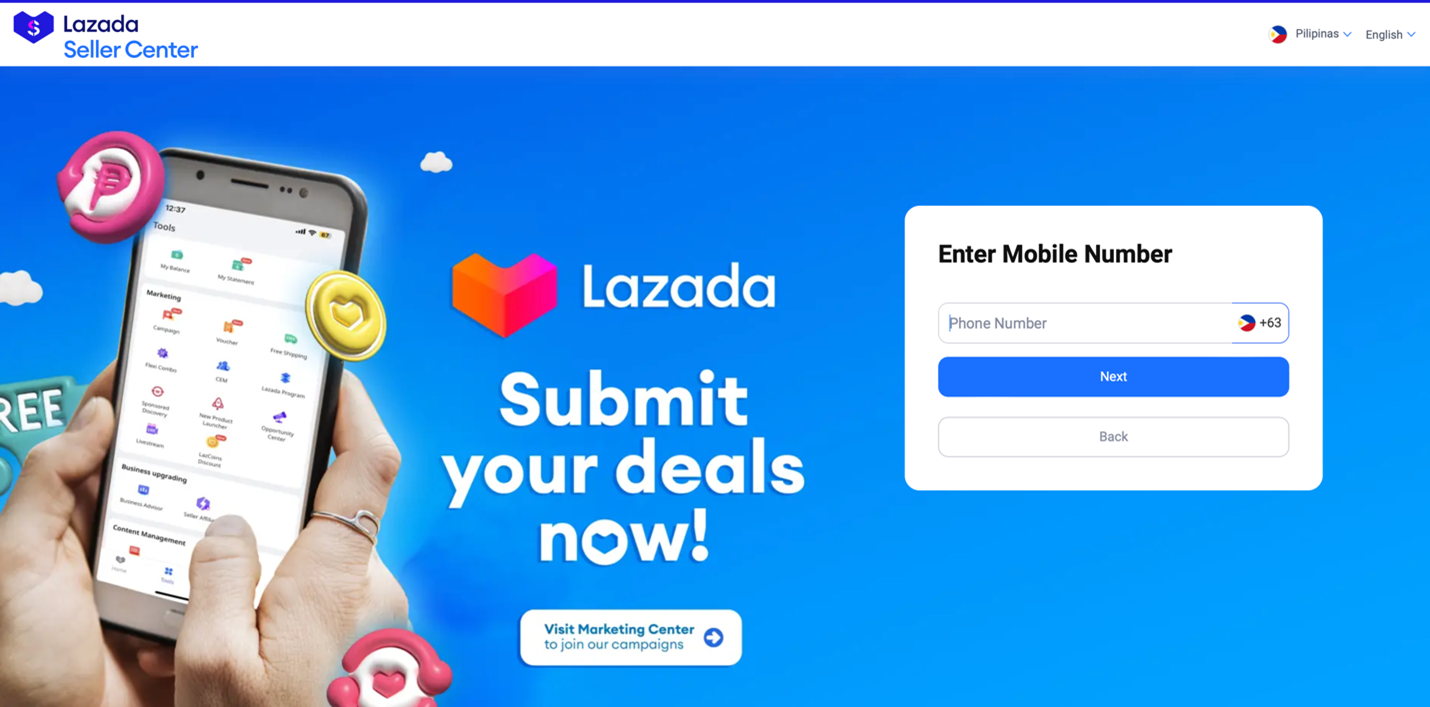 As part of the KYC process, Lazada's affiliate program requires you to share your local phone number. Make sure you input an active number since you will receive a verification code on this number for verification purposes.
Step 4: Choose your member type
I recommend selecting the "Individual" option under the member type when setting up your affiliate account.
Pros and Cons of the Lazada Affiliate Program
Pros
Ease of Getting Started:

Joining the Lazada Affiliate Program is relatively straightforward, making it accessible to new affiliate marketers.

Popularity:

Lazada is gaining popularity in the region, which can translate to more potential customers for affiliates.

Payment Options:

The program supports many payment options, making it easier for your referrals to make purchases. This, in turn, leads to more commission.

Generous Commission Rates:

Lazada offers competitive commission rates to its affiliates when compared to other programs.

No Minimum Sales Requirement:

Unlike some affiliate programs, there is no minimum sales requirement to start earning commissions with Lazada.
Cons
Limited Geographic Reach:

Lazada operates in only six countries, which may limit your potential audience.

Need for significant Web Traffic:

Like all affiliate programs, earning substantial money requires having a significant amount of traffic to your social media or website.

Time Investment:

It takes time and effort to see substantial results. As many may assume, it's not a "get rich quick" scheme.
Tips for Maximising Earnings
Stay Informed:

Keep up with Lazada's promotions and sales events to ensure you're promoting current offers.

Engage with Your Audience:

Interact with your audience for feedback and insights into their preferences and needs.

Regularly Update and Optimise Content:

Consistently update and optimise your content to keep it relevant and engaging for your audience.

Understand Your Audience:

Get to know your audience and create content that resonates with them.

Choose a Relevant Product Category:

Select a product category that aligns with your content type and your audience's interests to maximise your affiliate marketing efforts.
You have all the information you need to get started with Lazada's affiliate program. We have discussed the steps you can follow to join this program and the tips for getting the best out of it. Overall Lazada's program is pretty good, thanks to its generous commissions. But as noted in the article, you must put in time, effort, and creativity to earn big from this program. 
It is also important to note that this program is mainly meant for creators and influencers promoting physical consumer products. If your website or social media focuses on other forms of content, such as online casinos or forex trading, you may have to consider other affiliate programs. For instance, the best affiliate program for Asian-based influencers in the online casino niche is the BK8 affiliate program.
BK8 is a trusted brand that offers up to 45% commissions, over three times what you can get with Lazada. Getting started with this program is also easy, with steps familiar to Lazada's.
What is the minimum payment for Lazada affiliates?
Lazard affiliate program pays commission for all purchases, but the minimum amount you need to trigger a payout is RM 90.
How much is Lazada's commission?
The commission rate can vary depending on the product category you promote. However, the commissions go up 14.5%, but the exact rates are specific to each category.
How much can I earn with the Lazada Affiliate Program?
If you put in the time and effort, you can earn between RM 2,000 to 10,000, depending on the popularity of your website or social media profile. However, the earnings potential is further influenced by several other factors, including the popularity of your content, the product category you choose, and more.
How do I get paid as a Lazada affiliate?
You will get paid through banking/online banking. Lazada supports several local banks and online banking platforms in the South Asian region.
How long does it take to get paid?
Typically, there will be a 15 to 30 days waiting period after the sale is made. During this period, Lazada verifies transactions to ensure they are legitimate.
What if I encounter problems with my affiliate account?
If you encounter issues with your affiliate account, contact Lazada's affiliate support team. You can contact their support team via email and all major social media platforms, including Facebook, Instagram, X (formerly Twitter), Tik Tok and YouTube. 
How long does it take to get approved for the Lazada Affiliate Program?
The approval process takes a few days. This period may vary for different affiliates depending on the timing.
What is the minimum traffic requirement for the Lazada Affiliate Program?
The Lazada Affiliate program doesn't have a minimum traffic requirement. However, you will need to have substantial traffic if you're to earn a reasonable commission. 
There a lot of affiliate marketing program available in the market. The important thing is you should always choose the best affiliate marketing program such as BK8 Affiliate that offer highest commissions to members and better features!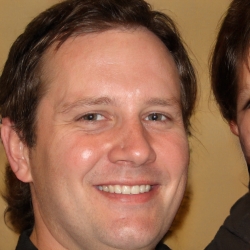 Latest posts by Travis Bishop
(see all)