Amazon's total earnings in 2023 have been estimated at $554.028B, making it the largest e-commerce platform on the planet. 
Given its scale, it has a vast associate program where people or businesses collaborate with Amazon to promote their products. They make a commission whenever customers click the links and buy a product. No wonder it's the first choice for anyone looking to join a quality associate program.
However, the program might not be as straightforward as many people think. That's why we have created this detailed guide after researching the program, consulting with the associates, and delving into customer reviews. 
What is the Amazon Associates Program?
The Amazon Associate is an affiliate marketing program that lets people monetize their online existence on websites, blogs, and social media channels. These people are called Associates who promote Amazon's products to their audiences and push them to buy them by clicking on unique links. Thanks to Amazon's size, the Associates can choose from millions of products and use the advanced tools to reach their audience in the most effective ways. 
The mechanism behind the Amazon Associates Program is quite simple: you register for a new account and wait a bit for your application to be approved after proper scrutiny. Once approved, you can start promoting the products immediately on your preferred platforms. Associates create unique links that they use with their content, pushing customers to click on them and make purchases of Amazon products. 
Why Join the Amazon Associates Program?
Joining the Amazon Associates Program offers several benefits for people looking to earn side income. Firstly, you can earn commissions on sales by promoting Amazon products that align with your content or audience. Moreover, the Program lets you choose from a vast range of products in the Amazon store, allowing you to cater to your specific niche.
Many people are familiar with and trust Amazon, which can positively impact your affiliate marketing efforts. Lastly, you can track your performance and earnings through the Amazon Associates dashboard, providing control over your side income. The income of Amazon Associates ranges between $100 to $25000 depending upon website traffic, the number of real buyers, average price, and commission rates.
Brief overview of Amazon as an e-commerce platform
Amazon is the world's largest e-commerce platform, offering books, electronics, fashion, and more.

They are known for user-friendly features, like customer reviews and product recommendations.

Provides fast and reliable shipping options, including Amazon Prime for subscribers.

Marketplace allows third-party sellers to list and sell their products.

Offers secure payment options, like Amazon Pay, and various delivery methods.

Enhanced by Amazon's fulfilment centres, ensuring efficient order processing and delivery.

Plays a significant role in shaping modern online shopping trends and customer expectations.
How Amazon's commission structure works
Amazon's commission structure is volume-based, meaning the more affiliate links people click, the more money you make. The commission you earn through the Amazon affiliate program also depends upon the types of products you sell.
For instance, if you deal in products that cost $20, you cannot expect to make hefty commissions. On the other hand, dealing in products that go for $100 will definitely save you some good bucks. Moreover, your commission rate increases once you have achieved a certain level of sales.
Here is a table with products and their respective commission rates:
| | |
| --- | --- |
| Products  | Commission Rates |
| Amazon Games | 20% |
| Luxury Beauty & Amazon Explore | 10% |
| Digital Music & Videos | 5% |
| Kitchen, Automotive, and Physical Books | 4.5% |
| Amazon Devices, Amazon Women's Fashion, Luxury Stores Fashion, Watches, Jewelry, Handbags, and Accessories | 4% |
| Toys, Furniture, Lawn & Garden, Industrial Supplies, Tools, Sports, Beauty Products, Baby Products, Pet Products, Musical Instruments | 3% |
| PC Components, PC, DVD & Blu-ray | 2.5% |
| TVs, Video Games | 2% |
| Amazon Fresh, Consoles, Health & Personal Care, Groceries | 1% |
| Gift Cards; Alcohol Beverages; Wireless Service Plans; Food; Amazon Appstore, Prime Now, Amazon Pay Places | 0% |
| Other Categories | 4% |
Here's a simple way to understand the Amazon Associates Program commission structure:
If you promote a toy category worth $100, you'll get a 3% commission, which translates to $3 per sale. However, selling 100 of them per month will make you $300, which is a substantial amount from one product only. Apply the same example to the luxury category, and you'll be earning $10 per sale. 
Eligibility and Requirements to Join the Amazon Associates Program
The first step for joining the Amazon Associates Program is to submit a complete application with accurate information. Moreover, your site should be publicly accessible and contain original content. Amazon evaluates each application in detail and notifies applicants about their eligibility or ineligibility.
Here is the kind of content that makes a site unsuitable for the Amazon Affiliate Program:
Sexually explicit and violent content that promotes harm.

False, deceptive, or libellous content. 

Racist, harassing, discriminatory, or content that invades others' privacy. 

Promoting illegal activities.

Violates laws and targets children under 13 or relevant age thresholds. 

Violates intellectual property rights.

 
Social media influencers are also eligible for the Amazon affiliate program, given they fulfil the following requirements:
An active and public social media account on Facebook, Instagram, X, TikTok, or Twitch.

At least 500 organic followers.

Regular and substantial engagement with the followers. 
You are given 180 days to complete at least 3 sales after registering for this Program. If you cannot do so during the designated period, Amazon will close your account. However, don't lose hope entirely, as you can join again after making the necessary tweaks to your site. 
Important Terms and Conditions of Amazon Associates Program
By registering for the Program, you confirm to be at least 18 years old. Moreover, it means that you fully accept the following terms and conditions of the program without any reservations. 
Amazon reserves the right to reject any application, even without an explanation. Moreover, the applicant cannot have a legal recourse against it. 

Double commission isn't applicable if a customer clicks on an affiliate link and uses a coupon code. 

A 10% commission is granted to Associates who refer a customer to Amazon.

Payments are scheduled on the 15th of every month.

Amazon can share banners and logos with Associates through the Gallery tool tab. Associates can download the media and share them on their channels. 

Affiliates can request to be removed from the Program by contacting

 

[email protected]

. 

Post the product review within two weeks of receiving it, and if you cannot, explain your circumstances to the Here & Now Affiliate Team. Make sure you only use high-quality product photos and videos.
Pros and Cons of the Amazon Associates Program
Being the largest e-commerce platform makes Amazon a trustworthy name. 

Millions of products in budget and expensive price ranges. 

Regular updates that keep the products that sell and remove those that don't. 

Amazon follows up on your prospects with emails and text messages. 

It shows the products related to the one you have promoted. For instance, if you promote a smartphone, Amazon will show them skins, covers, stands, and more.

 
The 24-hour cookie period can be a deal-breaker for many.

Different territories have different Associate Programs and require individual signups. 

You're eligible for a commission only when the return period has ended.

 
How to Become an Amazon Associate: Step-by-Step
Step 1: Go to Amazon Associates and click Sign Up. Or, log into your account if you already have one.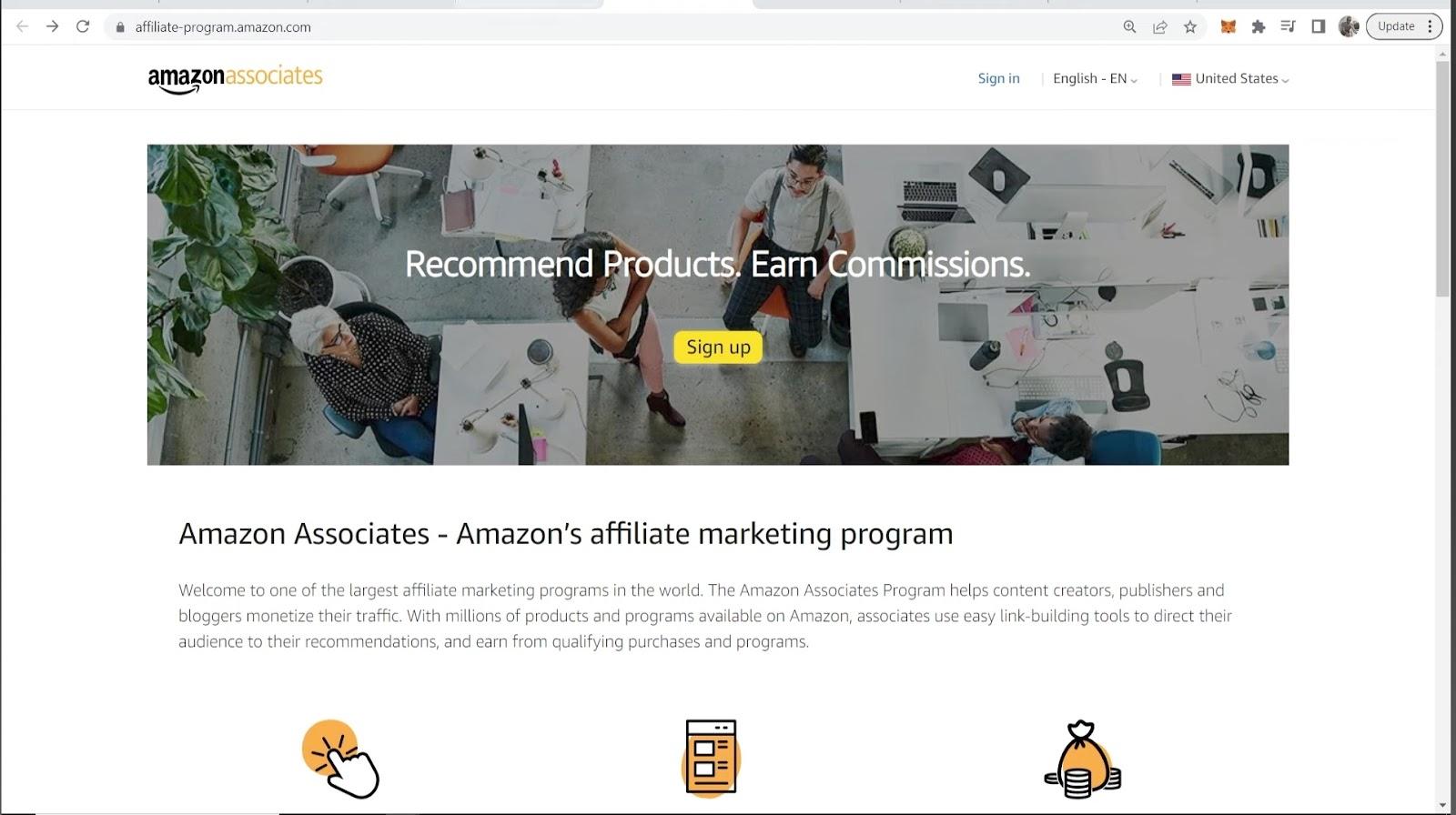 Step 2: Provide the necessary details, including your name, address, and contact information.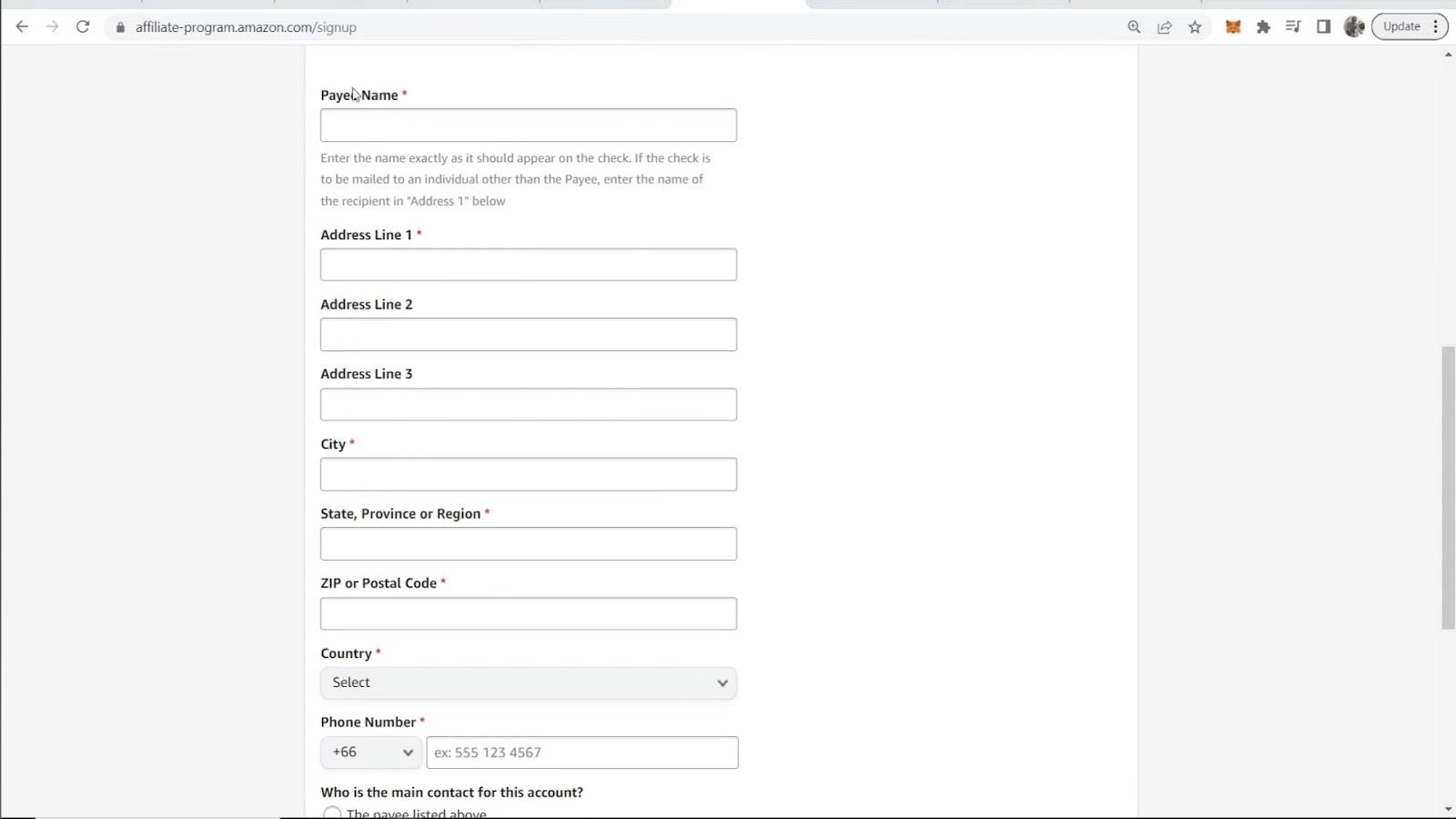 Step 3: Add all the site and application links. Amazon allows up to 50 links, usually to facilitate product promotion in different regions.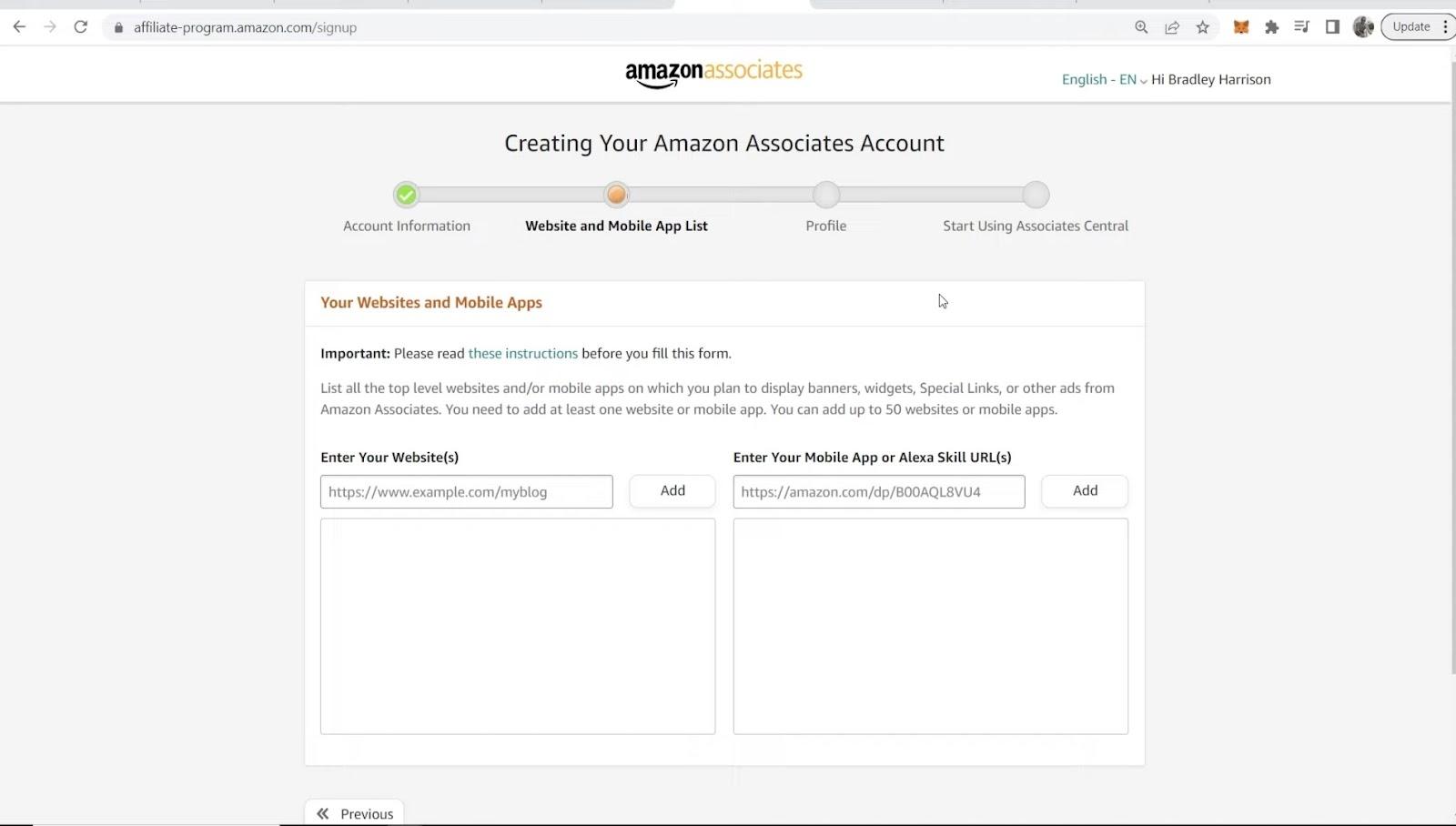 Step 4: Select a Store ID, which can be similar to your website's name.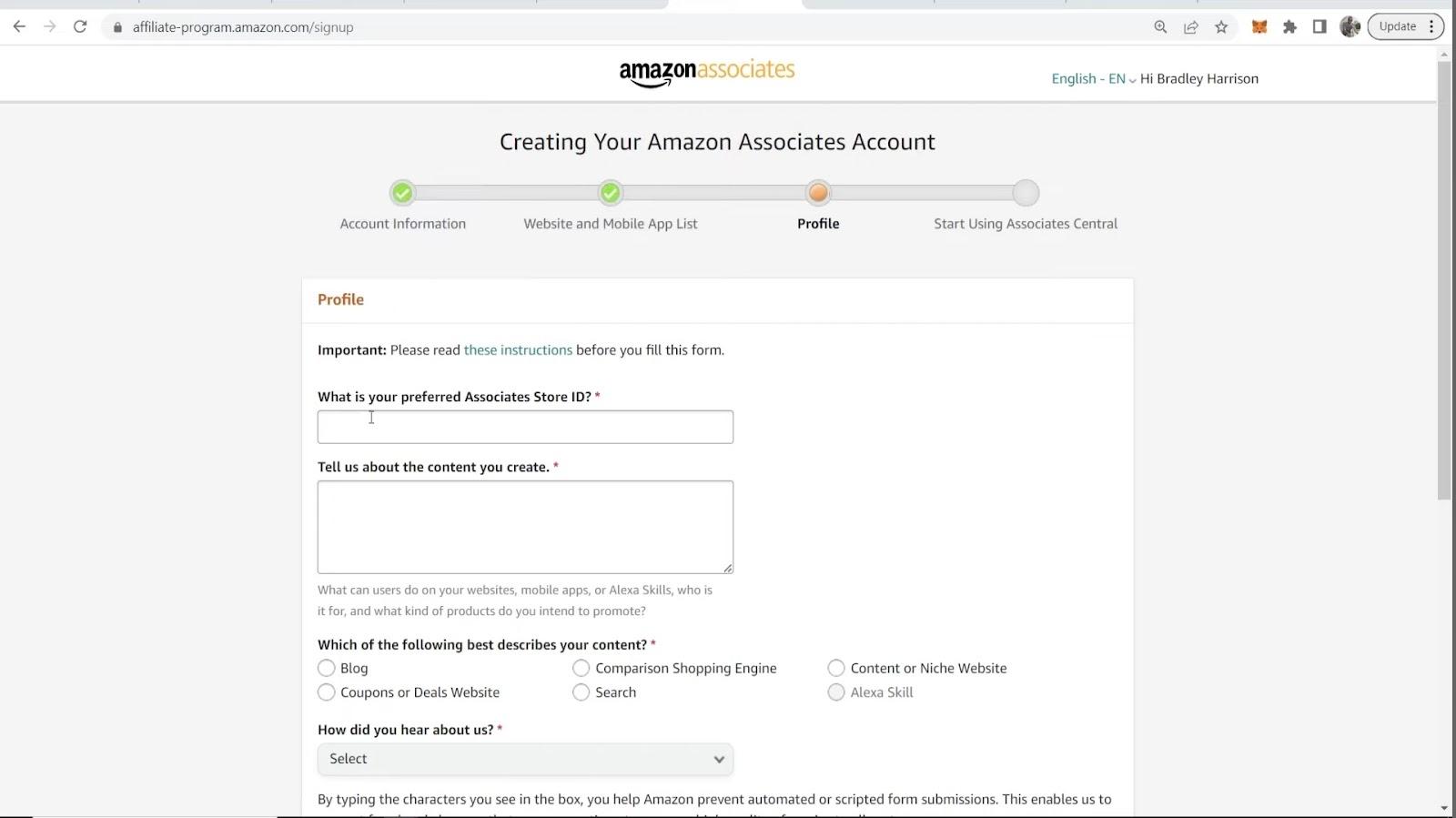 Step 5: Select the ways in which you generate traffic, marketing strategy, and your link-building process.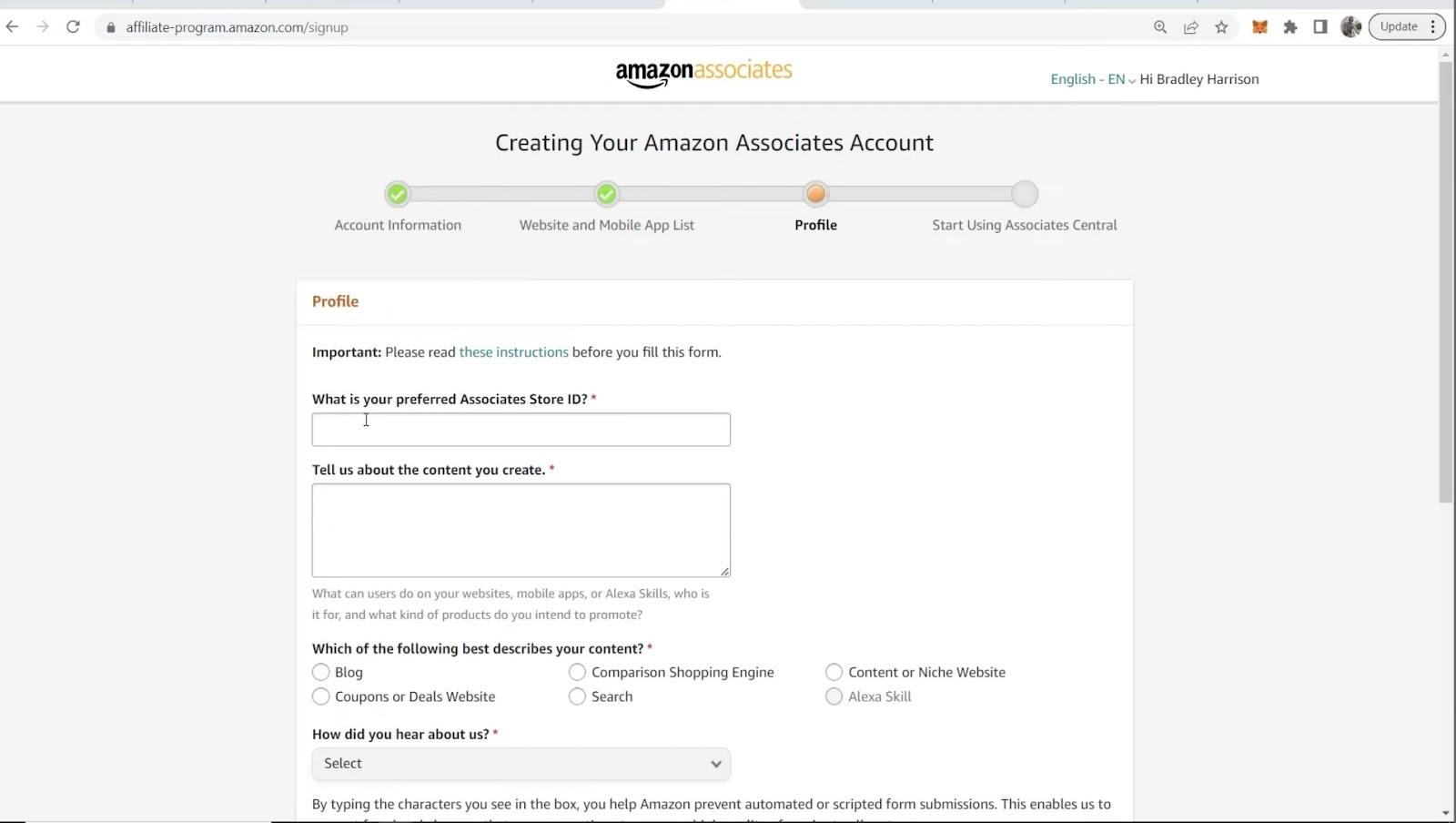 Step 6: Provide the payment and tax ID, which can also be modified later. Afterwards, enter the 4-digit pin Amazon provides you after returning to your dashboard.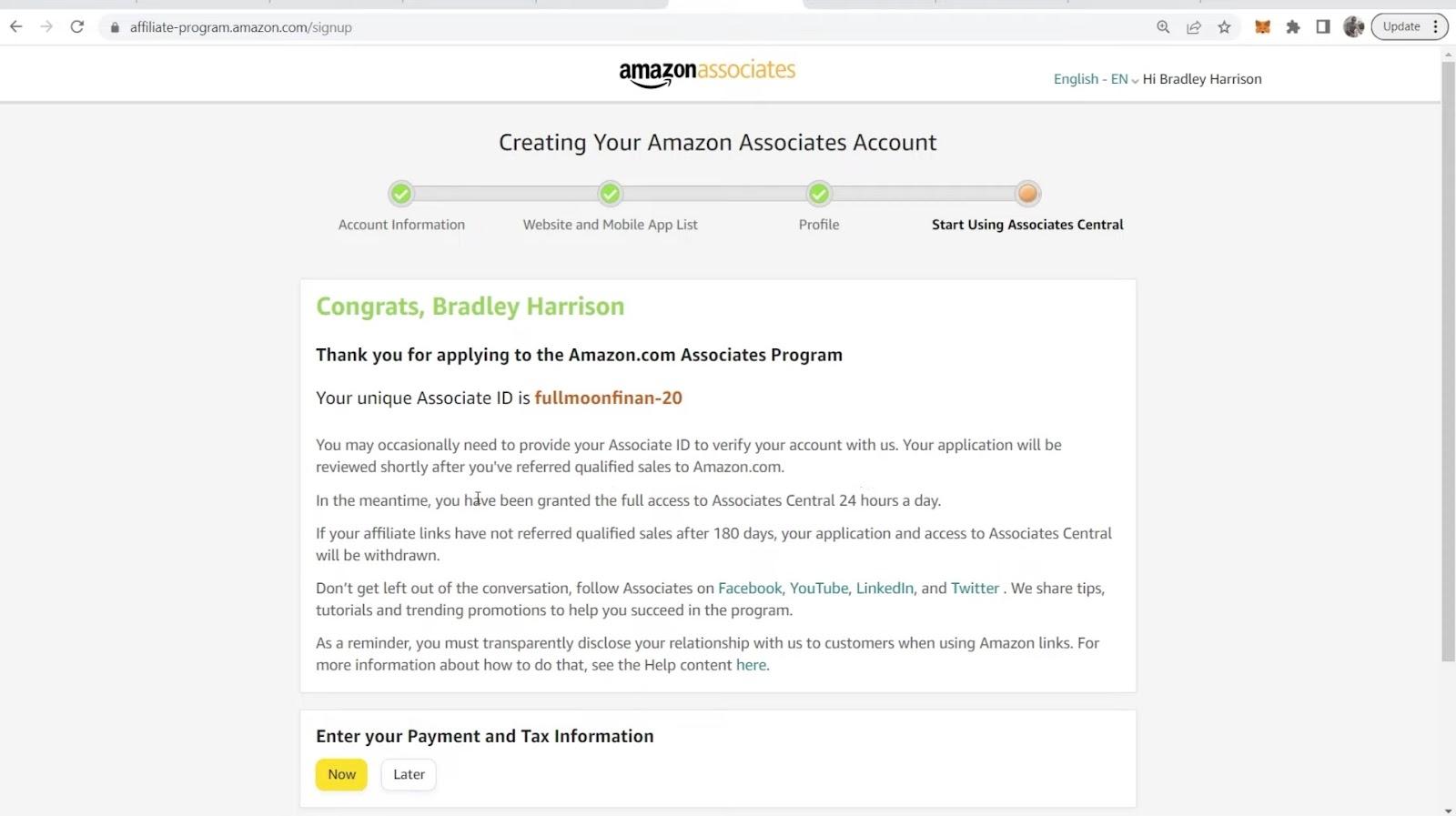 How to Generate Amazon Affiliate Link?
You can achieve your maximum earning potential in the Amazon affiliate program only if you add quality links to your products and services using the following tools:
When you log into your Associate account, SiteStripe appears as a toolbar at the top of every page. It allows you to build Amazon affiliate links right from the page you're on.
SiteStripe also lets you generate codes for text links, links with images, and links with images & text. You can share these links on any of your social media channels without visiting Associate Central.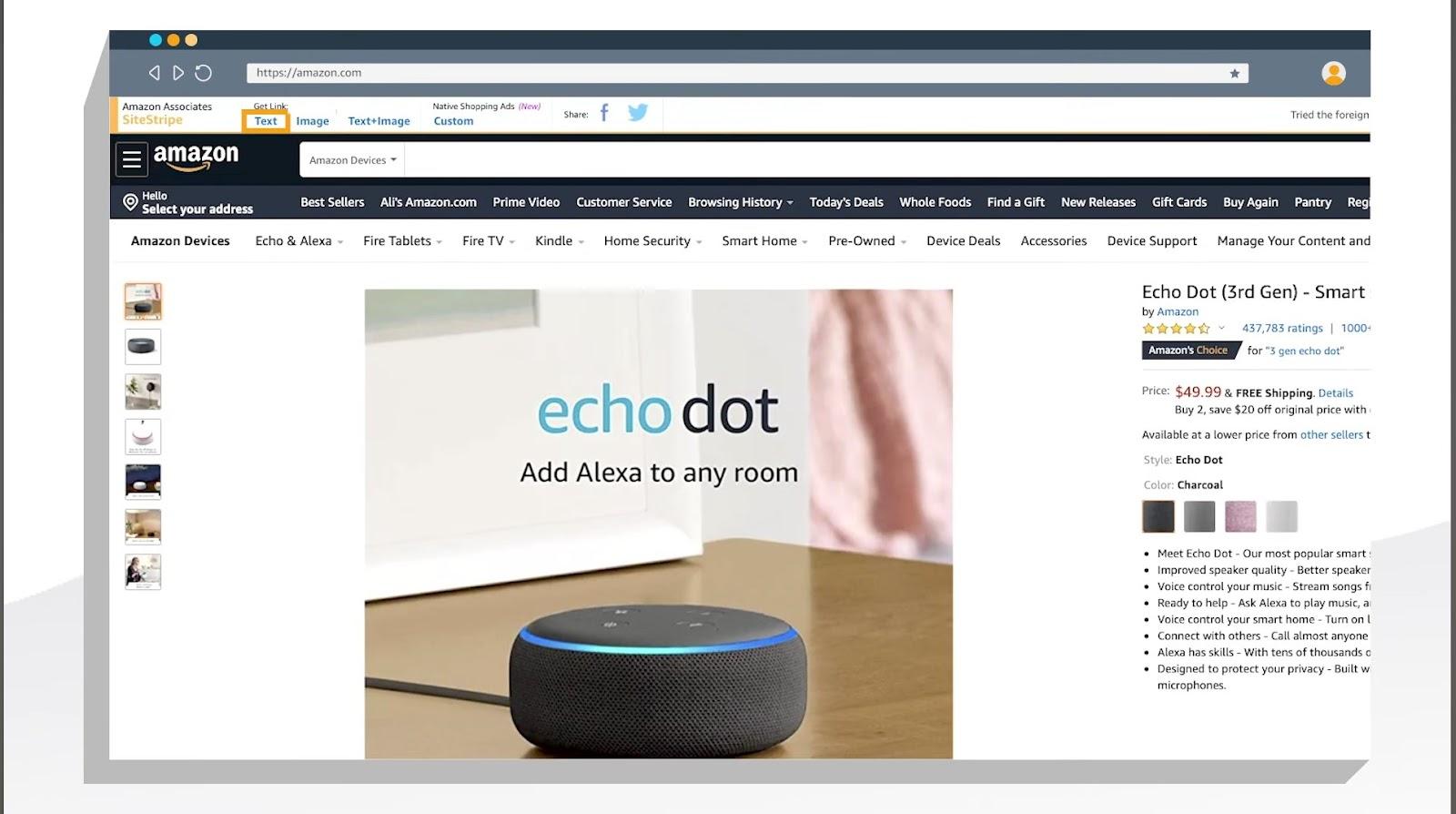 It's pretty easy to create a text link on SiteStripe. All you have to do is click the Text icon on the top, which automatically integrates your tracking ID into the link. You can select your preferred tracking IDs if you have more than one using the drop-down menu.
The available options depend upon whether you're using the product page or the overview page. If you want to create a test link to the product, ensure you're already on that specific product page.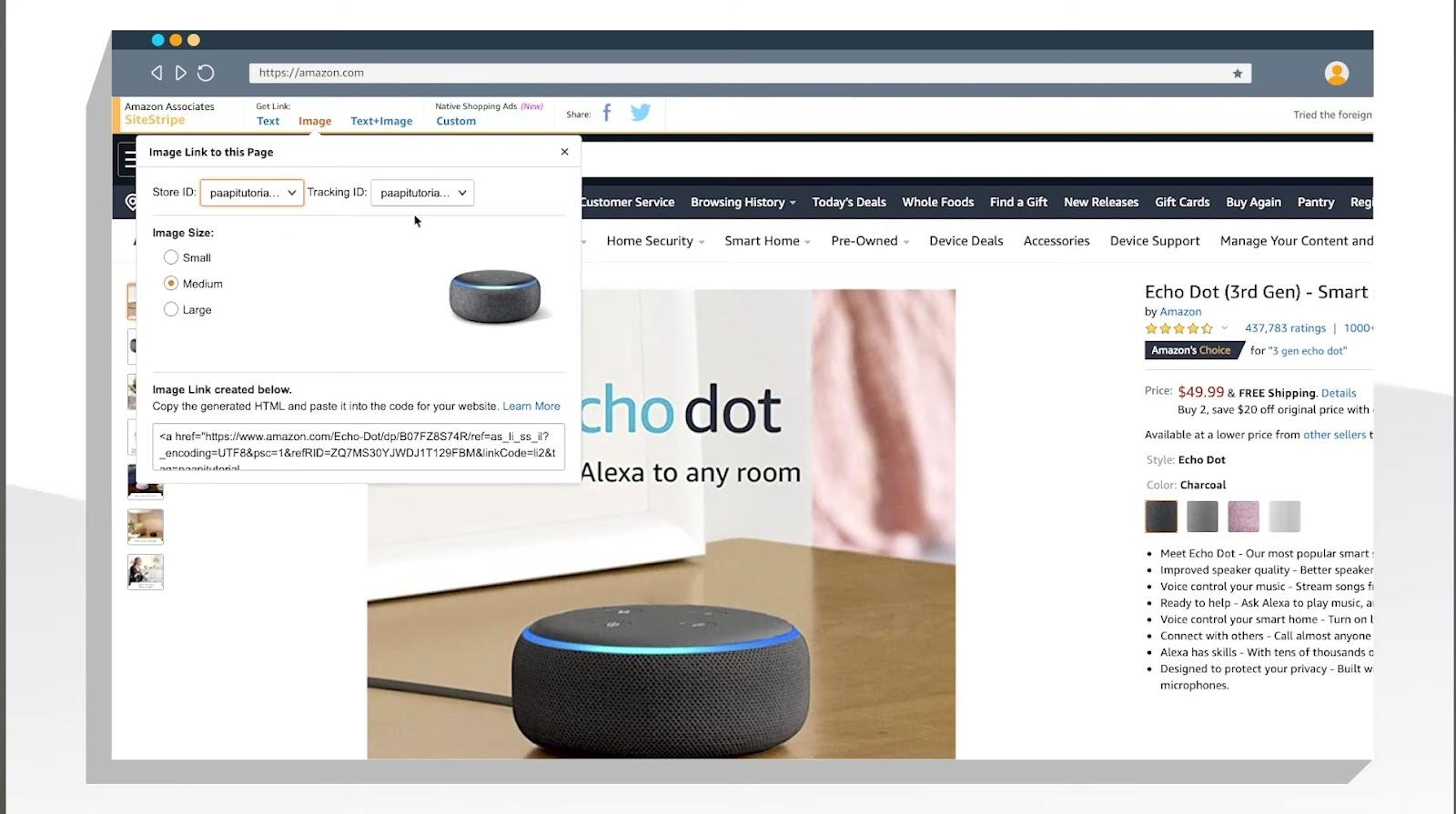 To create an image link, open a product page, click Image on the top, and choose your preferred size. Amazon will automatically integrate the last used tracking ID, or you can pick another one from the drop-down menu.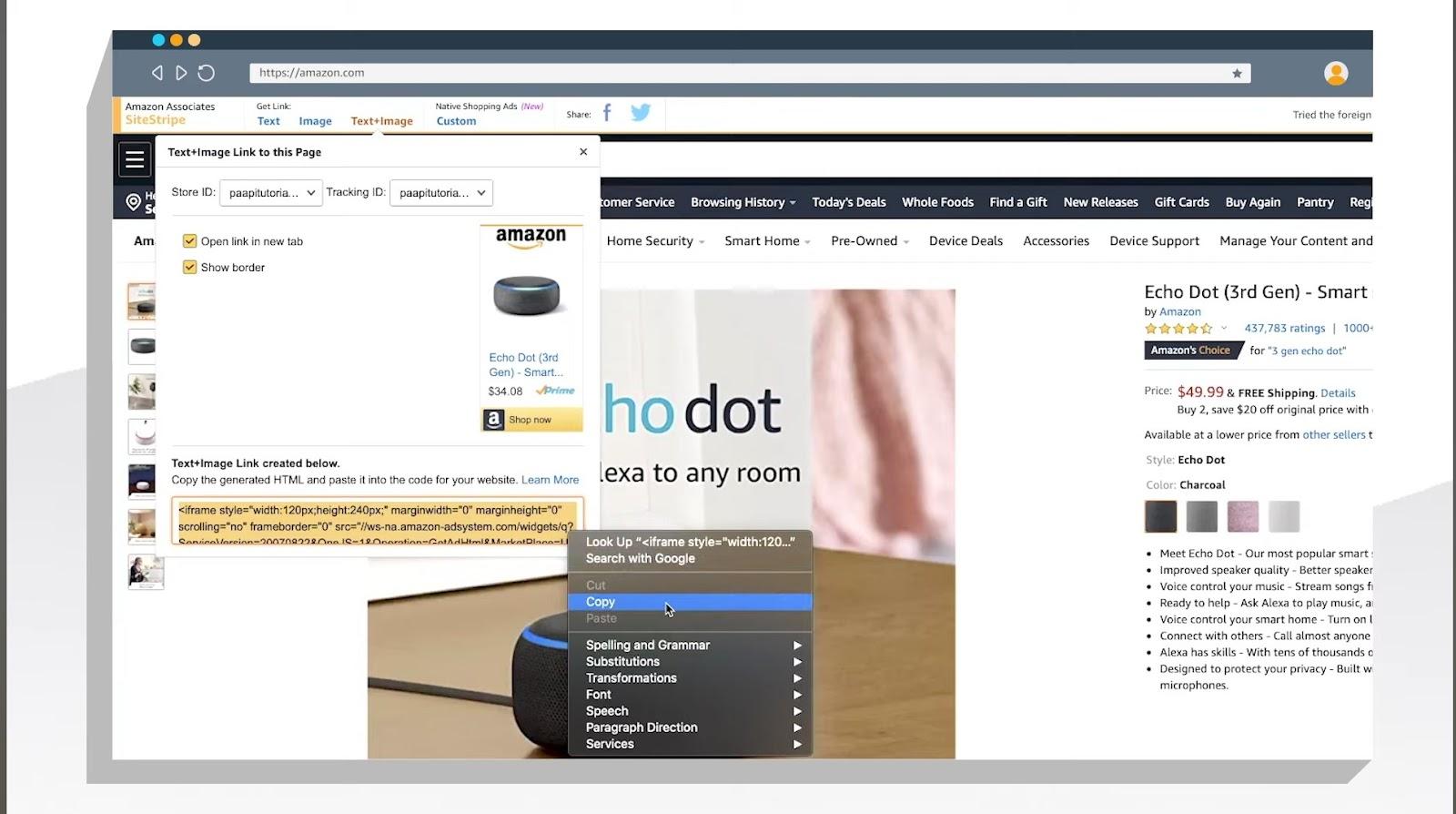 By clicking on Text + Image, you can copy an HTML code to create a link that shows the name, image, and current price of the product. It also has an Amazon logo and a buy button to encourage conversions. Tracking ID is automatically integrated or can be changed from the drop-down menu.
If you don't like going to Associates Central and want to generate content with associate links from your smartphone, Mobile GetLink is for you. Just open any product page in the Amazon app, click Share, and then hit Copy Associates Link. A link will be automatically copied to your clipboard, which you can use with your content on any social media platform. 
Idea Hub is also a great choice for browsing amazing deals and promotions throughout Amazon. When you have finally filtered your favourite product, just click the Get link and use the link anywhere you like.
How to Maximise Your Earnings as an Amazon Associate
Selecting a profitable niche
The first step is to pick a niche with a demand for the products, where Amazon offers competitive commission rates. Additionally, researching your target audience's preferences and pain points is essential. Understanding the competition in your chosen niche is equally important to determine if there's room for your affiliate site to thrive.
For instance, if you have a popular Instagram account, it's understandable to market products meant for the younger generation. 
Writing product reviews and recommendations
Once you've chosen your niche, you should create high-quality product reviews and recommendations. They should be based on genuine experiences with the products and extensive research. Doing that builds trust with your audience, making them more likely to purchase products and services through your affiliate links. 
For example, use a smartphone before promoting it on your social media channel or website. Because if you mistakenly promote specs that aren't part of the phone, you'll lose credibility as an influencer. 
Regularly publishing blog posts or articles keeps your audience engaged, encourages them to return to your website, and brings several search engine optimization (SEO) benefits. That's because search engines value SEO and rank only the content that follows the right strategy. Those who don't use it properly waste their time and energy without getting anything substantial. 
Promoting Your Content to Social Media
Leverage your social media platform by sharing relevant blog posts, reviews, and recommendations. Moreover, engaging captions and visuals change the feel of content, so always try incorporating them too.
Try to engage with your social media audience and address their questions & comments regularly. Doing it builds a community around your content, which helps you earn some valuable and loyal customers. 
Advertise Your Website on Search Engine
Search engine optimization (SEO) plays a significant role in driving organic traffic to your affiliate website. It involves targeting keywords relevant to your niche and the products you promote, creating meta tags, and improving site structure. Use keywords strategically so that the search engine considers its high-quality content and ranks it well. 
Building an email list of interested subscribers lets you stay in touch with potential customers and continue promoting Amazon products. Regularly send newsletters and promotional emails to your subscribers, providing them valuable information about special offers on Amazon. Moreover, it's a good idea to conduct regular surveys through emails to find what your audiences want and don't want. 
Ready to Become an Amazon Associate?
As this discussion reveals, Amazon Affiliates Program is a lucrative offer that works wonders for those willing to put in their efforts. From commission rates to support, everything is top-notch and surpasses its competitors.
Joining requires only a few steps that anyone can complete. Moreover, the terms & conditions of the platform are pretty lenient, indicating maximum facilitation for Associates. 
However, other competitive programs like the BK8 affiliate program are worth checking out. It promises lifelong earnings with up to 45% commission rates. Moreover, they're a licensed entity regulated by the most prestigious names in the casino market.
Is it free to join the Amazon Associates program? 
Thankfully, Amazon doesn't charge any joining fees or doesn't deduct anything from your earnings later on. Also, there are no minimum referral requirements that you must meet before earning something from the Amazon affiliate program.
How does Amazon track my referrals? 
Amazon tracks referrals through unique affiliate links that contain your specific tracking ID. When visitors click these links, Amazon places a tracking cookie on their device, recording details about the click. If a purchase is made within 24 hours, you earn a commission.
What types of links can I create as an Amazon Associate? 
As an Amazon associate, you can generate text links, image links, and text + image links, depending on your requirements. These links are then used for tagging your products and qualifying you for earnings. 
How much can I earn as an Amazon Associate? 
The amount of money you make as an Amazon Associate depends upon several factors, such as experience, product type, and more. Usually, you can expect to earn something between $100 to $25,000 per month.  
How and when do I get paid as an Amazon Associate? 
Amazon affiliate program pays its associates monthly, usually 60 days after a month ends. There are three ways in which payments are performed:
Cheques

Amazon Gift Cards

Bank transfers 
What happens if I don't make any sales? 
Your account can be withdrawn if it remains dormant for 180 days and you don't make at least 3 sales during that period. Once the account is rejected, Amazon doesn't reinstate it.  
Does the Amazon Associates program offer any tools to help me manage my links and earnings? 
Amazon Associates have several tools available to manage their links and earnings, such as:
SiteStripe

Publisher Studio

Link Checker

Product Advertising API

OneLink

Link Your Accounts

Link Builder Plugin for WordPress 
There a lot of affiliate marketing program available in the market. The important thing is you should always choose the best affiliate marketing program such as BK8 Affiliate that offer highest commissions to members and better features!
Latest posts by missiondevice88
(see all)